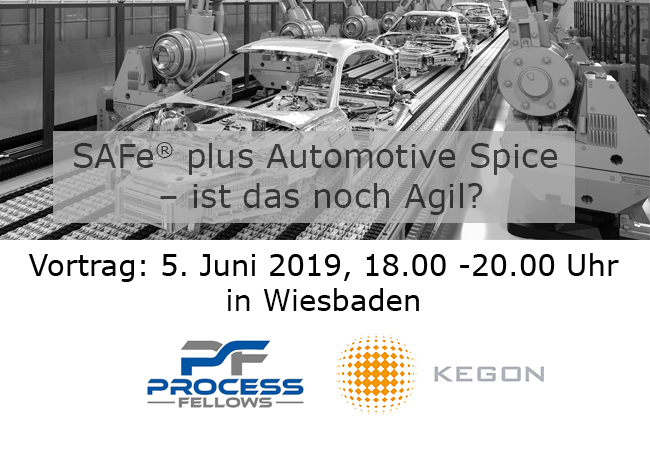 We will discuss this question on 5 June 2019 at 6:00 p.m. in Wiesbaden, at a theme evening which the Process Fellows and KEGON will be holding together as part of an ASQF® specialist group lecture.
Agile practices are increasingly being used in the automotive environment. However, as soon as the agile processes leave the experimental stage and are to be used in large, technically complex projects, the question arises as to how the Automotive SPICE® requirements can be fulfilled. A pure mapping of agile processes, roles and artifacts to the Automotive SPICE® requirements does not meet the challenge of creating a modern and agile working environment.
The Scaled Agile Framework (SAFe) provides a methodology toolbox for large and complex initiatives. SAFe can provide considerable added value, especially in accelerating and making software development more flexible, without getting into irreconcilable contradictions with Automotive SPICE®. SAFe addresses process challenges such as Continuous Integration (CI), Test Driven Development (TDD), Test Automation, and Release on Demand directly and also fulfills many requirements from the Automotive SPICE® process evaluation model.
In the evening event, we will discuss agile project management approaches with SAFe. The SAFe concept "Built-In Quality", which serves to ensure compliance with quality standards, will also be discussed. Based on practical experience, various solution patterns can be sketched, which are promising starting points for the adaptation of agile processes in an automotive environment and which also sufficiently consider Automotive SPICE®.
Speakers:
Dr. Michael Diefenbach, Kegon AG
Dr. Yvonne Görlitz, Kegon AG
Bernhard Sechser, Process Fellows GmbH
Dr. Holger Höhn, Process Fellows GmbH