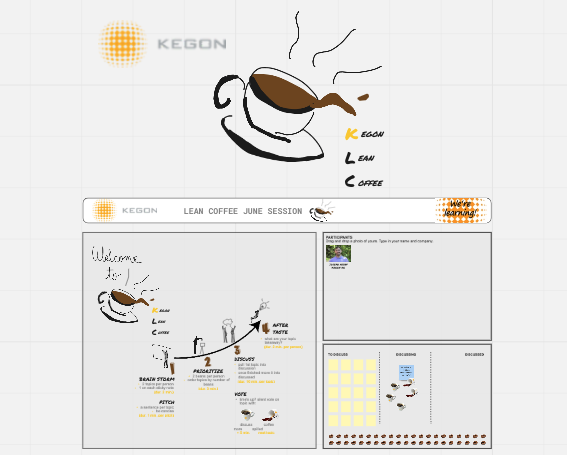 Welcome to the "KEGON Lean Coffee":
Date: Friday, June 25, 2021
Time: 10:30 a.m. to 12:30 p.m.
Location: At the Virtual Villa / Zoom
Remote with Miro Board
Free of charge for the participants
Registration required (maximum 20 participants)
In German
Topic: Agility -> Everything around agility can be discussed or presented

What is a Lean Coffee?
A Lean Coffee is a format for a meeting that has no agenda defined in advance. The topics to be discussed are decided by the participants themselves. They express their topic suggestions and requests at the beginning of the Lean Coffee. The topics are briefly presented and prioritized by voting. We start with the topic that has received the most votes and therefore also interests the most participants.
To be able to discuss as many topics as possible and to bring structure into the meeting, the time per topic is limited. The name is based on the principles of Lean Thinking, i.e. individual learning, personal responsibility and knowledge exchange, all in a KEGON Coffee Shop atmosphere.
Register here your Free Ticket (Xing Booking Tool) - Language German.