The KEGON success formula
KEGON was founded in 2002 and offers strategic management consulting, agile coaching and training. Our company name derives from the Japanese Buddhist school Kegon-shū. This symbolizes the fact that each individual has a significant impact on a complex organization both through their role and also through their personal characteristics. For us, this means the commitment to accompany and support our customers on a path of self-responsible action in a networked world.
Who are we? Our team represents a diverse mix of professional backgrounds with broad experience and skills. What unites us is our motivation to make a difference - to leave something lasting in this world by using both our strength and our experience for our clients and their projects.
Our clients include both international corporations and medium-sized companies, mainly from the finance, automotive, logistics and health sectors. We always aim to empower our clients to achieve sustainable success, even after we've left the project. In recent years, we've worked in a wide range of companies and organisational structures, with diverse sales, product and project cultures, however, they all have one thing in common: real people work there. Therefore, our empathy, peer-to-peer discussions and methodology know-how are the keys to success.
Learn more about KEGON`s history here
Our expertise: scaled agility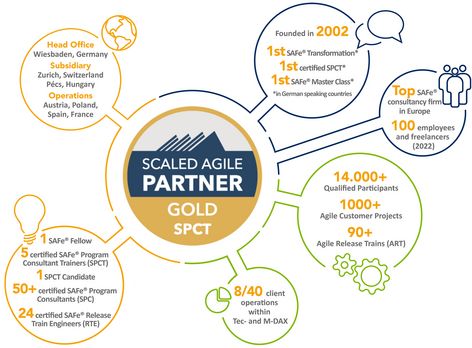 We are the first-mover with the Scaled Agile Framework (SAFe®) in the German-speaking market. We implemented both the first Agile Release Train and the first SAFe® transformation, along with having the first certified SPC, SPCT, RTE and, since 2018, the first German SAFe® Fellow. We've been the first German Scaled Agile partner (since 2013) and we successfully support our customers with their SAFe® transformations. In recent years, we've advised numerous customers on the introduction of SAFe® and have certified more than 14,000 people in SAFe®. This makes us the first point of call in Europe for coaching and consulting agile transitions in the SAFe® context. The current, worldwide ranking of SAI Transformation Partners can be found here.
KEGON is also one of the top international partners for agile transformations!
KEGON was our "enabler" to put our only punctual attempts in Lean and Agile on healthy, scaled feet. With our Agile Release Train, we have placed customer value and flow at the centre of our actions - which is not only noticeable to our customers, but also plays an important role in our marketing and sales approach.
Nicklas Weich, Program Management, GXL | Data & Technology
GfK SE
"With KEGON, I have not only found a consultant, but a partner with whom we have very pragmatically successfully introduced SAFe from portfolio to team level in my area. The applied tools and methods have become an integral part of our daily development process today".
Jens Dommel
General Manager R&D Health Connectivity Services, CompuGroup Medical
"KEGON supports us in the introduction of agile procedures with a lot of sensitivity for the people involved. The coach selects the methods with a good sense of proportion and carefully adapts the implementation speed to our culture".
Achim Schmidt
Head of department Consult/Plan/Build IT/ORG at Schufa Holding AG