Subject: RTE Training Remote
Subject: POPM Training with Heike and Stefan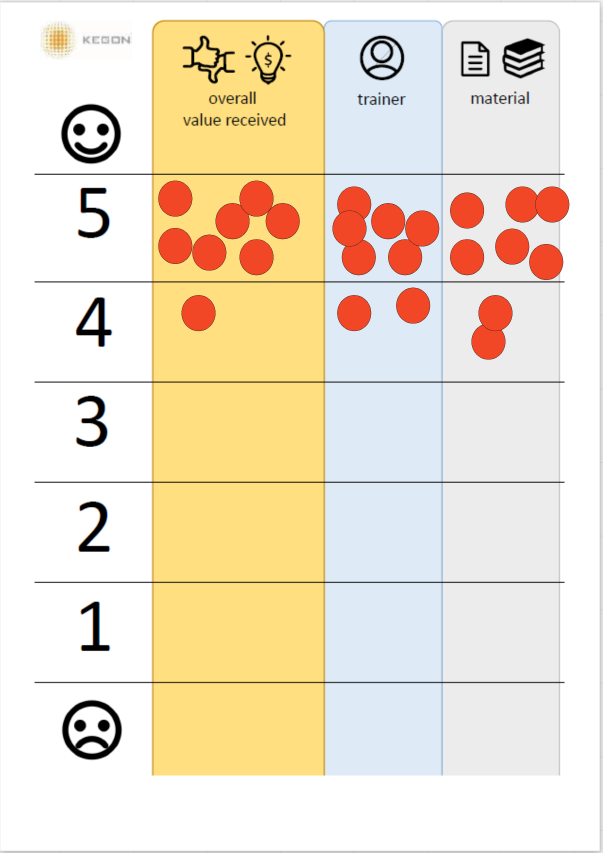 Name: Training-Feedback at the Miroboard
Subject: Leading SAFe Training with Felix and Florian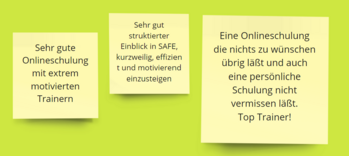 Company:  Advantest Europe GmbH
Subject: Leading SAFe at Advantest (Inhouse-Training)
On behalf of the team, I would like to thank you again for perfectly responding to our feedback and for finding a very good balance between teaching theory, exercises, case studies and discussions.
Subject: Leading SAFe May 2020 Remote
I just passed the exam with 91%. This result, of course, speaks for you – it was a great course with lots of tips!!
Name: Participant feedback
Subject: Implementing SAFe 17.-21.01.22
Thank you for the feedback, SPC training with Niko Kaintanzis and Felix Rüssel.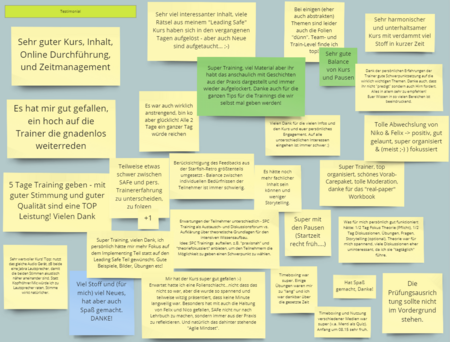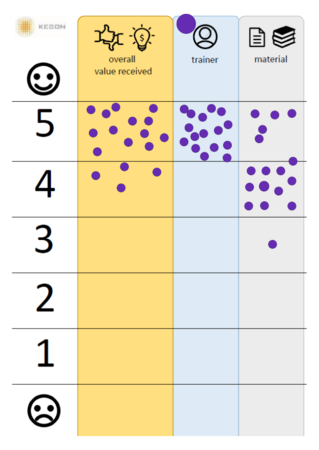 Company: MGS Meine-Gesundheit-Services GmbH
Job: Agile Master / Release Train E
Dear Kurt,
I would like to thank you very much for your great support this year - especially for your spontaneous, competent and pragmatic assistance in connection with the SAFe methodology and the use of modern media.
For me as an RTE at Meine Gesundheit Services GmbH, your tips were immediately applicable: e.g. a PI Planning planned in April with about 100 participants using ZOOM and MIRO was still feasible with great success. In the meantime, it has become a proven standard. Great.
I am looking forward to further demanding challenges in the agile environment.
See you soon
Markus
Subject: Global SAFe Summit: SPCT Coaching Zone
Kurt,
My sincere thank you for such a catalytic coaching time. A-ma-zing!
You bring deep experience and an organic, natural servant-approach to your coaching. Much appreciated. Your clients/customers/team members are very, very lucky to have your leadership and mentorship!
I will have to spend some time reviewing all of my notes and synthesize the info as I plan what to do and when on my Continuous Improvement Kanban.
Great, relevant coaching and timely!
Thank you for the generosity of your time.
Please let me know how I might be able to assist you in some way. If you ever find yourself in Texas or San Antonio, please let me know...
My thankfulness,
Jeff

Company: Embedded Industrie
Job: Quality Management Processes
Subject: Feedback on the SAFe training
Hello Thorsten & Caro,
thanks for your suuuuper job! Keep up the good work!
You did a great job.
I am looking forward to the next steps!