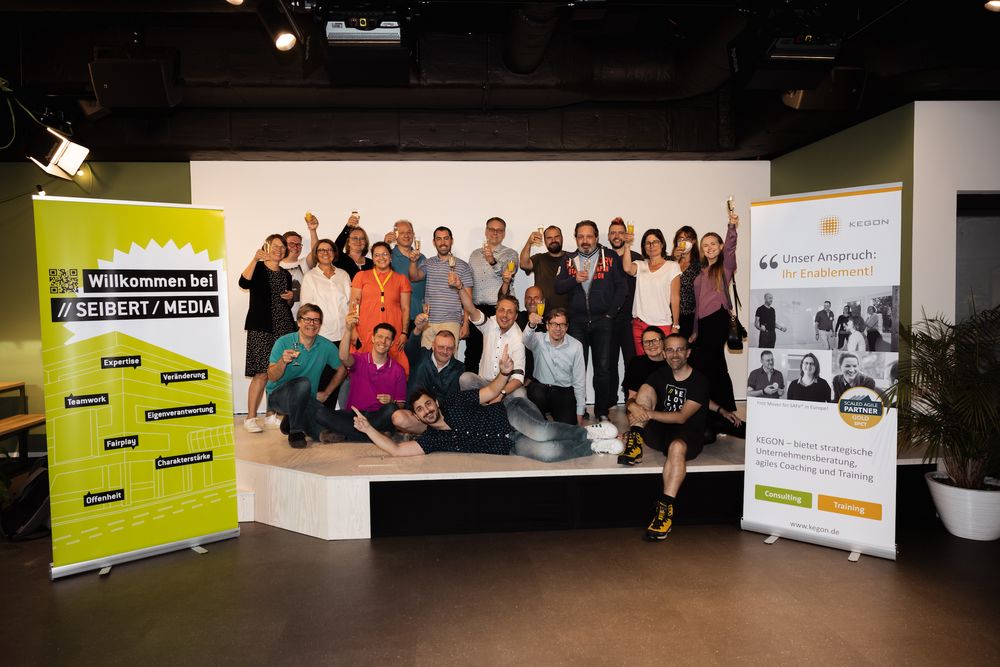 Since 11.7.2022 it is sealed. The company Seibert Media GmbH has taken a 30% stake in the Wiesbaden-based consultancy KEGON AG.
Can an agile company grow and scale sensibly without giving away its own values and identity? The answer of Wiesbaden-based Seibert Media GmbH is to evolve into a network organisation. A key element of this evolution is the close cooperation with innovative partners who set new impulses through their competence and meaningfully expand our service portfolio.
Now Seibert Media has initiated the next step of this transformation: Since 11 July 2022, Seibert Media has held a 30 percent stake in the management consultancy KEGON AG from Wiesbaden.
Common location, common tradition, common goals
KEGON and Seibert Media are connected by many things in common. Both companies are based in Wiesbaden, the capital of Hesse, and feel committed to the location. Both KEGON and Seibert Media have existed for over two decades in a complex, fast-moving market environment and always manage to reinvent themselves.
And both organisations share the same agile values and strive - one by imparting knowledge, the other by providing software - towards the same goal: Helping customers achieve dynamic robustness, agility and better collaboration.
In recent years, there have been numerous points of contact between Seibert Media and KEGON, for example in the cooperative development of the software product "Agile Hive - SAFe in Jira". What could be more obvious than to join forces and henceforth tread common paths?
A successful cooperation – taken to an even higher level
Seibert Media has been active as a software company at its Wiesbaden location since 1996. The more than 250 employees jointly offer software solutions for modern teamwork. Only recently, the company moved into new "headquarters" in the former Hugendubel building in the centre of Wiesbaden.
Since its foundation in 2002, KEGON AG has advanced to become one of the most important European consulting companies in the field of scaled agility and offers strategic management consulting, agile coaching and training. In addition to numerous DAX companies, SMEs and hidden champions from various industries, KEGON's clients now include more than 14,000 satisfied training participants.
"For many years, we have been inspiring our customers with self-organisation, personal responsibility and agile process models such as Scrum, Kanban and SAFe. More than 75 percent of DAX corporations as well as companies of all sectors and sizes are among our customers. We also live agility through and through at our own company level," says Martin Seibert, founder and CEO of Seibert Media. "KEGON is one of the most renowned consulting firms around the topic of scaled agility and, like us, has firmly anchored agility in its corporate culture. We have been working in partnership with each other for many years and are now taking our collaboration to an even higher level."
Dr. Yvonne Görlitz from the KEGON board also rates the cooperation as a win-win for all sides:
"In order to implement an agile transformation in a target-oriented manner, it is necessary to have the support of pragmatic and reliable software tools, especially in larger corporate contexts. We are glad to be able to rely on Seibert Media's expertise in this area. The fact that we are now working together even more closely has a positive effect on the quality of the service provided by both companies, but also on Wiesbaden as a location for the future."
About KEGON AG:
KEGON was founded in 2002 and offers strategic management consulting, agile coaching and training. We always support with the claim to empower and thereby achieve sustainable success, to accompany our customers on a path of independent action in a networked world. Although agile working has its origins in the IT sector, it is now expanding to all areas of business, such as public authorities and administrations. Our clients therefore include international corporations from the finance, automotive, logistics and health sectors, as well as government institutions and medium-sized companies.
About Seibert Media GmbH:
Seibert Media today employs around 250 talented people in Germany and the USA. We develop and distribute software for better collaboration in organisations in interdisciplinary, self-organised teams. As an official partner of Atlassian, Google and Scaled Agile Inc., Seibert Media also offers training, consulting and IT services.