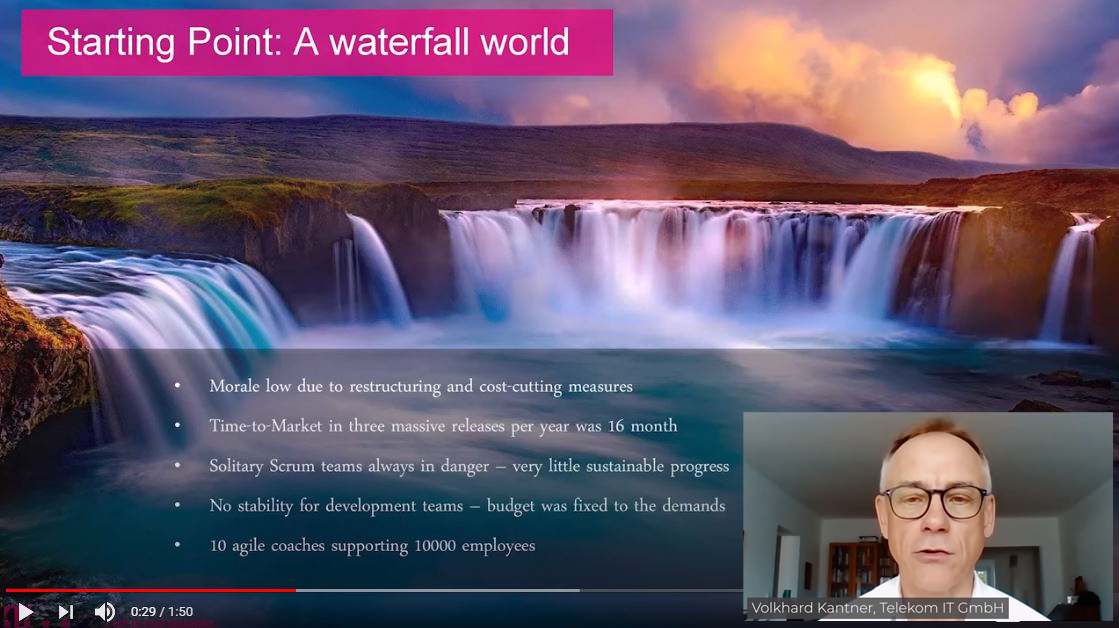 Encouraging keylearnings of a SAFe® transformation in a large corporation: business unit with more than 10,000 employees, more than 1,000 systems in a networked IT architecture, with 98% waterfall projects. Thanks to Volkhard Kantner for this presentation.
Short Summary of the presentation by Volkhard Kantner and his colleague Ralf Difflipp
Question: Why would anybody start a big corporation SAFe® transformation in a business unit with more than 10.000 Employees, more than 1000 systems in a meshed IT-architecture, with 98 % waterfall projects, demand financed requirements and a average employee age of about 52?
Answer: Because it simply couldn't go on like this: employee satisfaction rock bottom, projects failed on a big scale, the business suffocated in bureaucracy, 16-month time to market Today: We have 29 ARTs with an upward trend, time to market down by four month. Several role specific Agile Academy's trained hundreds of agile multiplicators in form of SPC, RTE, SM, DevOps-Engineers and more. But now we accelerate! Coming up: financing of value stream instead of projects, establishment of SAFe Portfolios, reorganization of managerial responsibility's by splitting into functional and disciplinary leadership.
He talk about their concrete steps, through which this transformation was brought about!