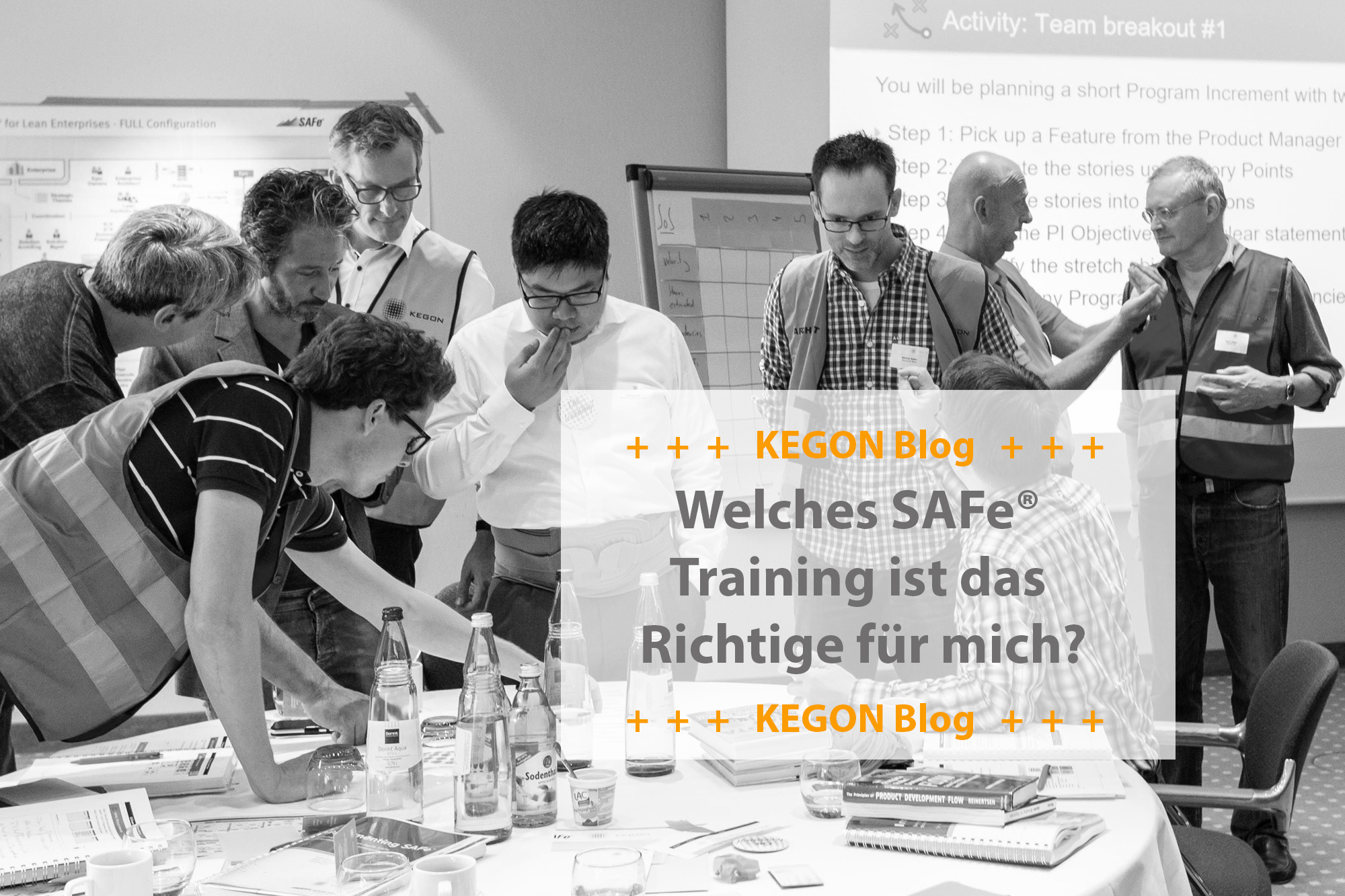 With the great success and wide distribution of the Scaled Agile Frameworks (SAFe®) in Germany and Europe, there are now 13 different official training courses offered by the framework provider Scaled Agile Inc. It is not easy to keep track. Therefore we would like to help you identify which SAFe® training is the right one for you.
First of all, a distinction is made between so-called basic and advanced trainings. For the Advanced Trainings, prior participation in a SAFe® Basic Training is mandatory, since Advanced Trainings do not explain basic terms and structures of the Scaled Agile Framework, but rather deepen specific topics.
The most universal SAFe® training, in which you will get a complete overview of the framework, is the 2-day "Leading SAFe®", which explains all essential artifacts, roles and meetings in SAFe® across all 4 layers. This training can also be attended by all SAFe® roles at team and program level, for example if no role-specific training is currently offered or if you are unsure which SAFe® training fits best.
In order to successfully start a so-called "Agile Release Train", the training of Scrum Masters and Product Owners or Product Managers is necessary. The "SAFe® Scrum Master" and "SAFe® Product Owner/Product Manager" training courses are designed precisely for this purpose. Existing Scrum or Kanban knowledge is very helpful in understanding these non-trivial SAFe® topics.
If you are about to start your first PI Planning, a big event in which all members of an Agile Release Trainings create an agile planning for the next 3 months, the "SAFe® for Teams" training is ideal for imparting knowledge to all team members involved. This training is often conducted in a large group setting with 2-3 trainers and up to 100 people. However, it can also be iteratively divided into smaller training sessions with fewer participants per session. In accordance with the SAFe® motto "Train Everyone - Launch Trains", it is strongly recommended that this training is attended by all participants before the first PIPE.
One training course that helps companies to significantly accelerate the "Time-to-Market" after an initial PI Planning is the "SAFe® DevOps Training", in which current value streams in the company are viewed and improved. Therefore, this training is not necessarily assigned to a specific level in SAFe®, but should rather be viewed in a general manner.
So much for the basic, i.e. knowledge transfer training. Let's now move on to the advanced training courses (which make up the majority of the offer) and which require at least one of the previously mentioned basic training courses and several months of practical SAFe® application.
A major challenge in SAFe® is the role of the SAFe® Architects, as they need, in addition to technical knowledge, a lot of communication and business understanding in order to achieve good results as SAFe® triads on numerous levels (there is also a blog article about this) - exactly this necessary knowledge is imparted in the 3-day Advanced Training "SAFe® for Architects".
Another major, if not the largest, topic of the SAFe® Transformation is the mindset shift away from "project and portfolio thinking" to a value-oriented lean portfolio flow. You will learn how this works in the 2-day "SAFe® Lean Portfolio Management" course. This course is suitable for top managers, budget decision-makers and portfolio and program managers involved in several ARTs in the company.
Let us now turn to one of the central roles in SAFe®, which determines success and effectiveness - the core of SAFe® - the so-called ARTs. This is the Release Train Engineer (RTE) or Solution Train Engineer (STE). Once such a person has gained his or her first practical experience in several PI-Plannings, the advanced training "SAFe® Release Train Engineer" is to be the next step. The objective here is to manifest special techniques and the "Lean Agile Mindset" on which SAFe® is based, and to enable the RTE to act as a coach for the ART.
A new training product that has appeared alongside the release of SAFe® 5.0 is the "SAFe® Advanced Product und Solution Management Training". This course is all about enabling product and solution managers to understand customer groups, their wishes and needs and to implement these in the form of products. This is a new topic that was not previously addressed in the framework. The APSM training will therefore introduce many new practices, such as the Design Thinking approach, Persona Definition and Empathy Maps.
In order to ensure good technical quality of SAFe® Team products, the abbreviation "XP" (stands for eXtreme Programming) is often referred to in the SAFe® Big Picture. If you want to better understand these concepts and learn how to implement "modern software engineering techniques" in practice, you should attend the 3-day "SAFe® Agile Software Engineering Advanced Training", which is primarily aimed at SAFe® architects and experienced SAFe® team members.
SAFe® Scrum Masters, who have been supporting their agile teams for 1-2 years, we recommend the "SAFe® Advanced Scrum Master" training, which offers a lot of help to make the processes on team level even better. This course is not only for Scrum Masters at team level, but also for the SAFe® "Super Scrum Master" Release Train Engineer and Solution Train Engineer.
The most comprehensive training is the "Implementing SAFe®" class, which enables participants to become so-called SAFe® Program Consultants (SPC). SPCs are the internal coaches and facilitators of large SAFe® implementations, with several hundred teams respectively thousands of developers. This course is extremely challenging in terms of time and content, which is why a SAFe® basic training course in advance, e.g. participation in a "Leading SAFe®", is highly recommended.
Due to the complexity involved in the application of SAFe® in large organizations (so-called "Enterprises"), a solid education by attending one or more training sessions by all employees involved in a SAFe® transformation is recommended. According to this, organizations should first be accompanied by external SAFe® coaches before enough SPCs are skilled and have the necessary experience.
We hope this information will help you choose the right SAFe® Training. We have also included an overview of all currently available SAFe® Trainings below. Each of these trainings is offered by us as a public training or an in-house training at the customer's site in German and English language. You can find dates here.
Training
Level
Focus on the following SAFe® levels
Aim of the Training
Leading SAFe®
(2 Days)
Basic
All levels
SAFe® Communicating the basics, giving an overview
SAFe® PO/PM
(2 Days)
Basic
Program-/Team-Level
Communicate the working methods of a PO/PM in SAFe®
SAFe® Scrum Master
(2 Days)
Basic
Program-/Team-Level
Teach the working methods of a Scrum Master in SAFe®
SAFe® for Teams
(2 Days)
Basic
Team-Level
Communicate the working methods in SAFe®
SAFe® DevOps
(2 Days)
Basis/Advanced
All Levels
Identifying and modulating value flow in the company
SAFe® LPM
(2 Days)
Advanced
Portfolio-Level
Develop and establish Lean Portfolio Management

SAFe® for Architects
(3 Days)

Advanced
Portfolio/Solution/Program Level
Communicate working methods of the SAFe® role "Architect"
SAFe® RTE
(3 Days)
Advanced
Program-Level
Teach advanced working methods of the RTE/STE role
SAFe® APM
(3 Days)
Advanced
Program/Large Solution-Level
Communicate advanced working methods of the Product Manager/Product Owner role
SAFe® ASE
(3 Days)
Advanced
Program/Team-Level
Learn software engineering techniques for architects and teams
SAFe® Advanced Scrum Master
(2 Days)
Advanced
Team-Level
Advanced techniques for SAFe® Scrum Master
Implementing SAFe®
(4 Days)
Advanced
All Levels
Training of SPCs for SAFe® enterprise transformations

Note: The training days given here refer to classroom training and differ for remote training.